Monasteries of St. Anthony and St. Paul Trip
Private excursion to St Antonius and St Paulus monasteries | The Coptic Monasteries of St. Paulus and St. Antonios are the oldest Christian monasteries.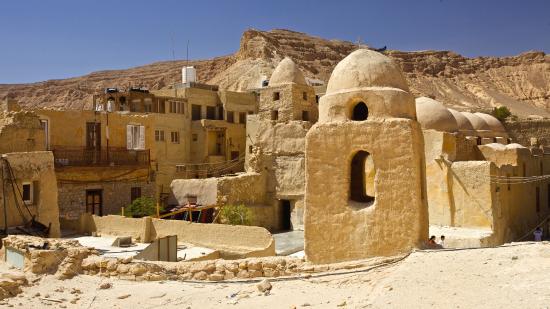 | Number of people | Type of car | Price per person |
| --- | --- | --- |
| 2-3 Persons | Private car | 96 € p.P. |
| 4-6 Persons | Private mini bus | 71 € p.P. |
| 7-8 Persons | Private mini bus | 62 € p.P. |
| Duration | Trip Type | Availability | Pick-up Time |
| --- | --- | --- | --- |
| around 14 hours | Individually | Every day | at around 5 a.m. |
Both monasteries are considered as the holiest sites of the Coptic Church in Egypt. Located off the Zafarana Road leading to Beni Suef.
• Explore ancient monasteries on a full-day bus tour.
• Visit the ancient monasteries of St. Antonius & St. Paul
The monasteries also include mills and bakeries, which enable the monks to live independently. There are also many churches within each monastery. The Antonius Church, the sacred core of the monastery, dates back to the 6th century. However, most parts of the building, including the important frescoes, date from the 10th century.
Program of Monasteries of St. Anthony and St. Paul Trip
Monastery of Saint Anthony
Monastery of Saint Paul the Anchorite
Lunch
Desciption for Monasteries of St. Anthony and St. Paul Trip
We will pick you up from your hotel around 5:00 AM. You will travel in about two hours in a quality, air-conditioned vehicle. Before reaching the Monastery of St. Anthony, you will cross the heart of the desert.
More than 1600 years ago, the hermit Anthony lived here in a cave on a mountain 680 meters high. A staircase with about 1000 steps leads to the cave.
Here you can admire the ancient writings and drawings of Anthony and enjoy fantastic views of the surrounding mountains, desert and sea.
Then he walks along a rugged valley to the monastery of St. Paul. The monastery was built over the cave of St. Paul, a Christian hermit who lived in the 4th century AD. died.
Then we go to the restaurant for lunch.
After lunch we return back to Hurghada.
You will be returned to your hotel at around 17:00.
Not included in the price: